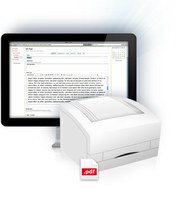 The Produce & Publish platform got a new experimental editor: Nimbudocs Editor
Nimbudocs is a HTML5+JS driven WYSIWYG editor that runs on all modern browsers.
It is the first editor that provides real WYSIWYG to the end-user.
Its primary purpose is to provide exactly the same layout to the document author as in the generated PDF document.
Nimbudocs Editor is not designed to be used as default editor for content as part of a CMS system.
The main focus is on providing a real WYSIWYG feeling to the author.
Some features of the Nibudocs editor
full WYSIWYG
edit wide tables in landscape mode
PDF generation directly from the browser
collaboration support
individual parts of the document can be made editable or non-editable (using CSS)
annotations
Possible usecase
Web-to-Print applications
businesscard generator
brochures
....
Here are some demos
In particular look at the businesscard generator where you can edit some parts of the content. The underlaying template is pure CSS3 and HTML(5).
Please note that Nimbudocs Editor is not a final product so far. We are early-adaptors of this new technology.